Today I am going to talk about 2 joeys, Bagel and Donut. Yes, I know what you guys are wondering, why am I naming joeys after food? Well, I can't help it if they look all cute and tasty like edible pastries and breads. It's the case with Churro.
Anyway, let me introduce 2 boys, Bagel and Donut.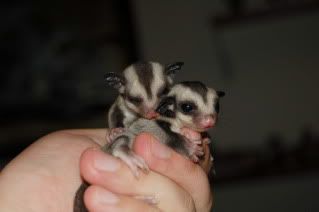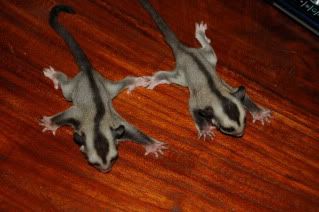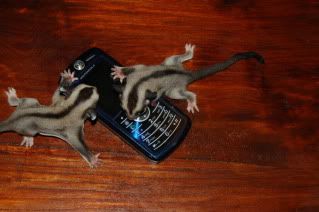 Donut and Bagel are first joeys of Crumpet and Keiko. Yes, again with the food name. Crumpet is their dad, a big size glider while Keiko is a lovely sized female that adores her joeys to bits and is absolutely protective over them. Both OOP on 10 July 2009. Bagel has the thicker line while Donut has the thinner one. Bagel is 27g while Donut is 24g. Good size and lovely little boys.
Now my post here is not really to brag about these 2 joeys but more towards showing people how joeys at certain petshops or commercial breeders would look like. These 2 joeys are only 17 days OOP and are still on their mother's milk. They need both their father and mother's care and body heat to stay healthy and alive. Commercial breeders are snatching them away at around this age to gain a quick buck.
Well, I used to be naive and impulsive 3 years ago when I wanted to get a few joeys. My friend was telling me that he knows a breeder in Penang that is offering joeys for a cheap price. 3 years ago I was naive, I didn't thought that there would be underage joeys for sale and believing my friend, he convinced me that the breeder was trustworthy and the joeys would be healthy. The shock came when my friend handed me 3 joeys that were smaller than Donut and Bagel! Utterly disgusted, shocke, sad and mad at the same time, I wanted an explanation. But the breeder or should I say commercial supplier didn't want to answer me. He was only into getting quick money from gullible people like me back then. My friend felt guilty for his mistake as he didn't know how a healthy joey should look like so I couldn't blame him. I had to blame myself. So what happened? All 3 died due to there were no supplements or milk suitable for terribly underage joeys 3 years ago. Worst, those 3 were still unable to see. That was my most expensive but the best lesson ever learnt. See, I am also human and I learn from mistakes. 3 years ago I was silly and didn't thought that I would be cheated.
Anyway, stop buying cheap joeys. Stop getting underage ones. Joeys that are about Bagel and Donut's age should be nursed and loved by their parents. Stop supporting commercial breeders. Get from proper homebreeders that shower their gliders with good food, proper care and best of all, love.