I know I have been slacking in photos and joey updates. Anyway, here are some long awaited joey pics and updates on them. Future owners, hope you enjoy these.
Here are Jodi and Jerry, a female and male joey from Jessie and Pugle. They OOP on 01 June 2011. These 2 have taken on their parents' characteristics a bit. Jerry is the male, he has inherited his father's found face, but not quite sure if it will stay round or not. When he first OOP, he had a puggy face like his dad but as he grew older, it changed a bit. He is like his dad, loves to explore but calm too. Jodi is the female, she is like mom, face and all. She is crabby like mom but then she has turned out to be the calmer one. Noisy little girl she is. And her brother follows her, she is the more outgoing leader.
Jodi and Jerry will be going to their new homes in 2 weeks time. Their new owners, Ched will be taking Jodi, and Jerry will go to Eric.
Jodi is on the left, on the right is Jerry.
Jodi giving me her intense face to face look.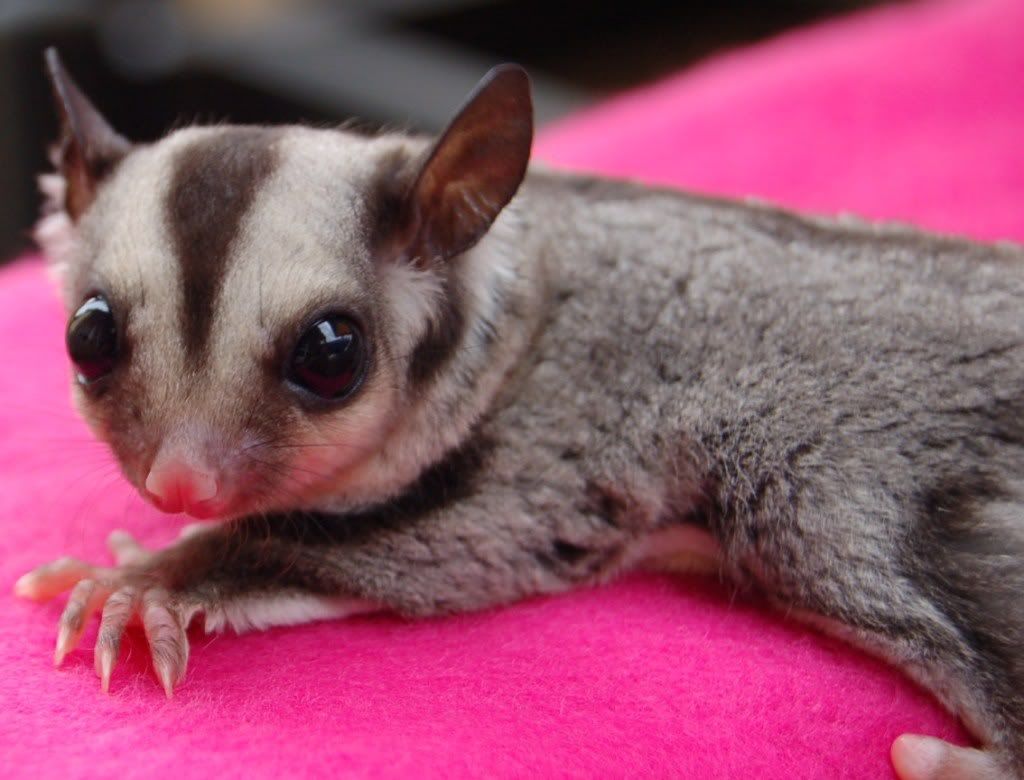 Jerry with his blur face.
Jodi riding on papa Pugle. 
Then next in line is Arial, a joey that OOP earlier than Jodi and Jeremy by parents Russel and Gennie. She OOP around 21 May 2011. I was thinking of keeping her myself but I believe when a good home, I rather she goes to a new home. She will be going to Eugene this weekend.  She is now fully independent and eats on her own. She doesn't crab much but she is super active, can't sit still for the camera. She is a perfect little glider for someone new to having gliders so she is quite a match for Eugene.
This is how an 8 week old joey should look like. Well developed facial features, a fluffy tail and bright eyes, even out fur. Head and body ratio normal. Underage joeys normally can look super cute because they aren't fully developed, so their heads can appear bigger.
Then of course Jen have 2 joeys as well with her mate, Crumble. But her joeys have a little bald patch on their heads due to the joeys keep rubbing their heads against the bars while in the sleeping pouch. This is a first for me, never seen such antics before but there are no skin problems. Fur is growing back and no sores. Anyway, they OOP on 16 June. Again, 1 male and 1 female, Baron and Cuppy. Baron is going to Chong Hau, Cuppy is going to Amir in Malacca. These 2 are growing well, very vocal, and they are expected to be big sized gliders since Keera and Crumble are big sized gliders.
Jen is a great mom, she inherited her mothering instincts from her mom, Keera.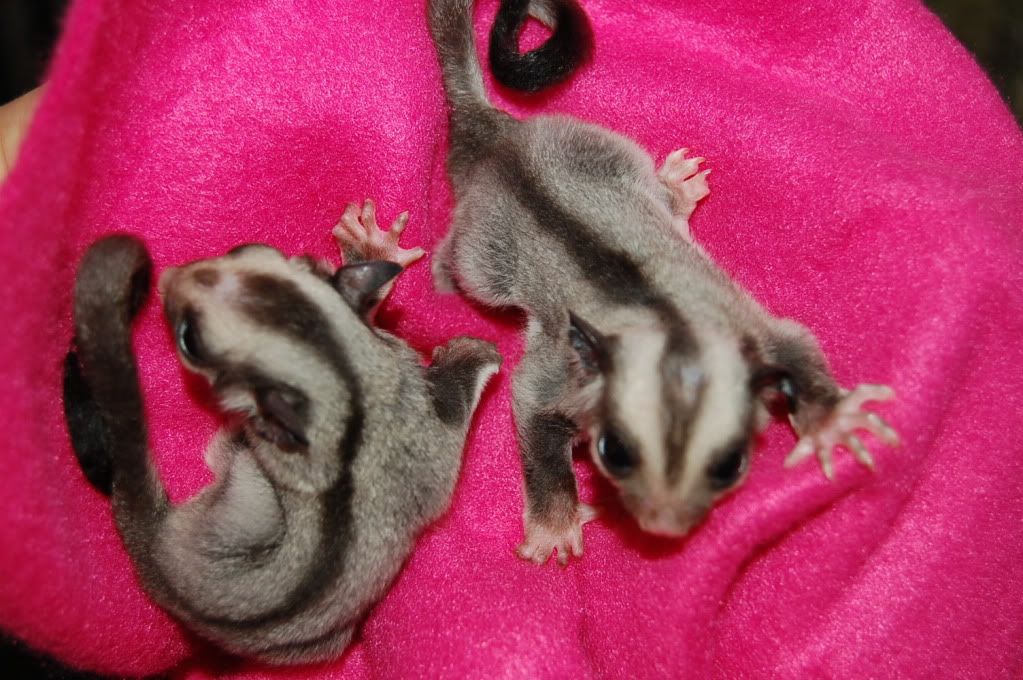 Cute but with weird bald spots on the head LOL. Don't worry, not skin disease or mites.
Then here is little Arizona. She just OOP, on 5 July 2011. She is already booked by Eugene, so she will be Arial's companion when the time comes. Her parents are 2 new gliders from my own breeding. This is their first joey. Parents are Rimba and Paige. Rimba is from Sugus and Gizmo, Paige is from Chiwek and Oshine.
Then here comes 2 joeys, Peanut and Butter, they OOP on 24 June 2011. Parents are Chubs and Girl. Peanut is the boy, Butter is the girl. Butter is going to Sharon. Peanut will belong to Shigure. They are like little hot chilli peppers. Really fueled with energy right now and they love their mom to bits. Momma Girl is a great mom.
Here is the joeys on Girl's back.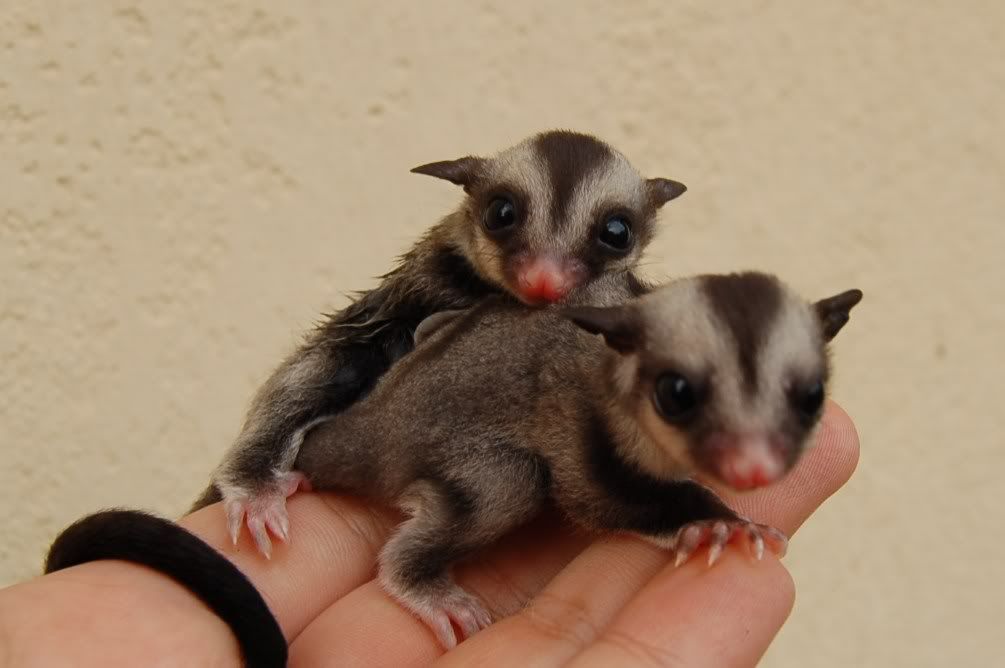 Peanut and Butter
Then tonight, 8 July 2011, Keera's joeys OOP. These joeys are unbook for the time being. It's a m ale and female. I have named them Koda and Kristy. So if you are interested, please do email at suggiesathome@gmail.com
Also, 2 more gliders are expecting 2 joeys each, they will OOP in a few weeks time.